March 15, 2022
Torq Resources to Follow Up On 1km Long Copper Discovery Hole
Torq Executive Chair, Shawn Wallace, and Chief Geologist, Michael Henrichsen, discuss the company's Margarita and Assay results on their 13 hole maiden drill program at Margarita are expected shortly. While never drilled before, all indications are that there's great prospectivity here. They had been trying to land this project for quite a while and finally acquired it last year. Phase 2 will commence later in the year and the company has done two recent capital raises to advance the project. Drill targets will be established upon analysis of Phase 1's results.
View More
February 2, 2022
Exploration Update From The Santa Cecilia Gold-Copper Project in Chile
Shawn Wallace, Executive Chair, and Michael Henrichsen, Chief Geologist disucss the company's geological evaluation of a couple historic holes that were targeting the copper porphyry mineralization at the Santa Cecilia project in Chile. These two historic holes intersected 925.7 m of 0.45% CuEq. Shawn and Michael also discuss permitting and the other work needed to commence drilling by early Q2 this year.
View More
January 27, 2022
Torq to Follow up on Nearly 1-km-Long Copper Discovery Hole
View More
November 16, 2021
New Gold-Copper Acquisition is Game Changing for Torq Resources
Jay catches up with Shawn Wallace and Michael Henrichsen of Torq Resources to talk about Torq's 100% acquisition of the Santa Cecilia Project in the Maricunga belt of Chile - a region estimated to host up to 90 million ounces of gold.
November 1, 2021
Exploration Potential at Recently Optioned Santa Cecilia Gold-Copper Project
Torq Resources announced on October 21 that it has secured an option to acquire 100% interest in the Santa Cecilia gold-copper project in the Maricunga belt of Chile. Historical drilling exists on the project, which will be re-evaluated with new knowledge and methods, and a drill program will be established based on this.
View More
October 28, 2021
This Copper Project is the "Real Deal"
Executive Chair Shawn Wallace and Chief Geologist Michael Henrichsen discuss the recently acquired Chilean gold-copper Santa Cecilia project. According to Henrichsen, "This is the real deal… The initial discovery has already been made."
View More
October 27, 2021
The Santa Cecilia Project and Ongoing Drilling at the Margarita Project
The option agreement to acquire 100% of the Santa Cecila project was the major acquisition that Executive Chair, Shawn Wallace, had foretasted for the Company in prior interviews. Shawn and Chief Geologist, Michael Henrichsen, recap the historic work completed on the project and the overall exploration strategy with the plan to have drills turning early next year. They also provide an update on ongoing drilling at the Margarita project and discuss the priority targets in the program.
View More
October 22, 2021
Torq Resources' new gold-copper project a game changer for investors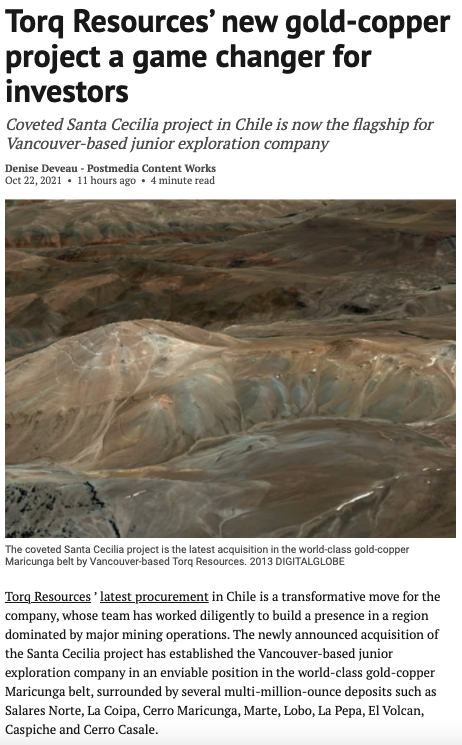 View More
September 30, 2021
Investment Lessons I Learned from Rick Rule and Eric Sprott - Michael Kosowan
Rick Rule was a mentor for both Jay and Michael Kosowan. Michael worked closely with Rick Rule and then Eric Sprott before crossing the street to join Torq Resources. Jay and Michael touch on lessons they learned from Rick and Eric and outline the 2 major copper projects Torq is exploring.
September 13, 2021
3 Priority Drill Targets at the Margarita Copper-Gold Project in Chile, with Drilling Starting this Month
Executive Chair, Shawn Wallace discusses the type of deposit the Company is exploring for and when the drill will start turning. He also provides an update on any acquisitions that could be coming.
View More